Tips For Spring Organizing
Tackle it all...even the junk drawers.
---
Why should spring cleaning get all the attention? It's time for some simply sensational spring organizing! Check out these tips to bring order to some of the most deadly of organization areas. Also, you can print out these free, cute labels. They fit on Avery 8478 and similar sized sticky labels so you can just download, print and organize!
---
Unruly junk drawers
It's the enemy of organization: The dreaded junk drawer. Full of of forgotten papers and takeout menus, extra pens, once-important receipts, abandoned pictures, random office supplies, even the occasional toy—they can pop up in the kitchen, office, bedroom...no room is safe! With the right amount of Ziploc® brand bags, Ziploc® brand containers and these cute labels you can turn that "ugghhh" to an "ahhh."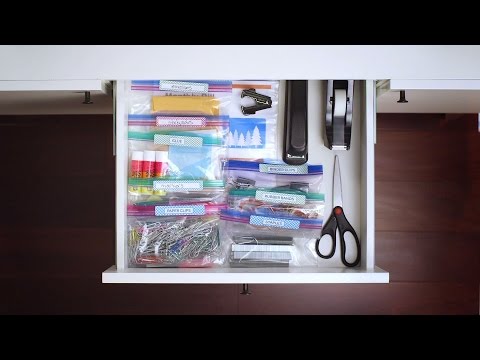 step 1
Take everything out and wipe that drawer down.

step 2
Organize your junk into three piles: "Throw away," "Keep," and "Keep somewhere else."

step 3
From there, put any extra pens and pencils (that work) in a Ziploc® brand bag. Then put on these cute labels!

step 4
Organize the important pieces of paper in different sizes of Ziploc® brand bags. Keep them in your drawer, or skip ahead to the desk organization tip!


step 5
Put those tangly cords away in a Ziploc® brand bag and use a binder clip to keep them neatly wrapped.

step 6
Organize any other random items (lip balm, pain medication, stickers, hair bands, pictures) into their own Ziploc® brand bag or container—and then put them in their rightful place (i.e., hair bands in the bathroom, pictures in photo album). The less you have lying around the better.
---
A tidy desk is a happy desk
The Internet is full of articles touting that a clean desk improves productivity. And who can argue with the Internet? Besides, do you really need seventeen possibly-working pens on your desk? Probably not. Time to get rid of all the old papers, extra notebooks, snacks, coffee mugs and whatever else finds it's way onto your desk—or organize it.
step 1
Time to assess the items on your desk. Do the same exercise you did for your junk drawer— separate your items into: "Throw away," "Keep," and "Keep somewhere else." And since you already have clutter-designated Ziploc® brand bags and Ziploc® brand containers in your junk drawer, feel free to utilize them.

step 2
Make sure everything on your desk has a designated place. Put those extra pens in a Ziploc® brand container (bonus if you use washi tape and this cute label). Same goes for office supplies like paper clips, staples, rubber bands, and binder clips.

step 3
Bring those random office supplies over from your junk drawer and put them in their own extra small square Ziploc® brand containers. Make sure to snap on the lid and use one of our free, printable labels!

step 4
Decorate! (Minimally.) Fun pieces like inspiring prints and succulents are great ways to perk up your desk.

---
Put it on the board
Putting a bulletin board above your office desk, mail table, craft table or kids room—basically any easily cluttered area—is a great way to declutter. You can put extra odds and ends in Ziploc® brand bags and just pin them to the board. Try it!
step 1
Scoop up all those extras, like pens, office supplies, rubber bands, mail, keys, toys, etc.

step 2
Organize them into the appropriately-sized Ziploc® brand bags, for example loose paper and mail fit nicely into the gallon size variety, while rubber bands go great in the sandwich bags.

step 3
Grab a thumbtack and pin your bags to the board!

---
Coat closets
Since spring means warmer weather, coat closets can be used for more than just coats! With a few Ziploc® Space Bag® products, you can open up a lot of space. So, clear everything out and vacuum. And before you haul everything back in, put your winter coats into a Ziploc® Space Bag®, and your other bulky, wintry things like scarves and hats in a Space Bag® All-In-One Tote. Now look at all that room! To fill with warm weather fun!
---
Medicine cabinet
Winter can be pretty hard on our medicine cabinets—think cough syrup spills, expired pain relievers, beat up band aid boxes...time to clean everything out, organize, and make room for springtime allergy medication!
step 1
Take everything out and do the three pile exercise outlined above.

step 2
Safely dispose of your expired prescription medication by crushing the pills, placing in a bag with soil, cat litter, coffee grounds, or wet newspaper and tying it up. Or, you can find a pharmacy that accepts medicines and will properly dispose of them for you.

step 3
Round up travel size toiletries and store them in a Ziploc® brand bag—or donate unused items to a homeless shelter.

step 4
Take all your adhesive bandages out of their banged up boxes and put in a quart sized Ziploc® brand bag to save space.

step 5
Organize your medicines in Ziploc® brand bags. For instance, put all your cold medicine in one, your stomach medications in another, and your allergy medication in another.

---